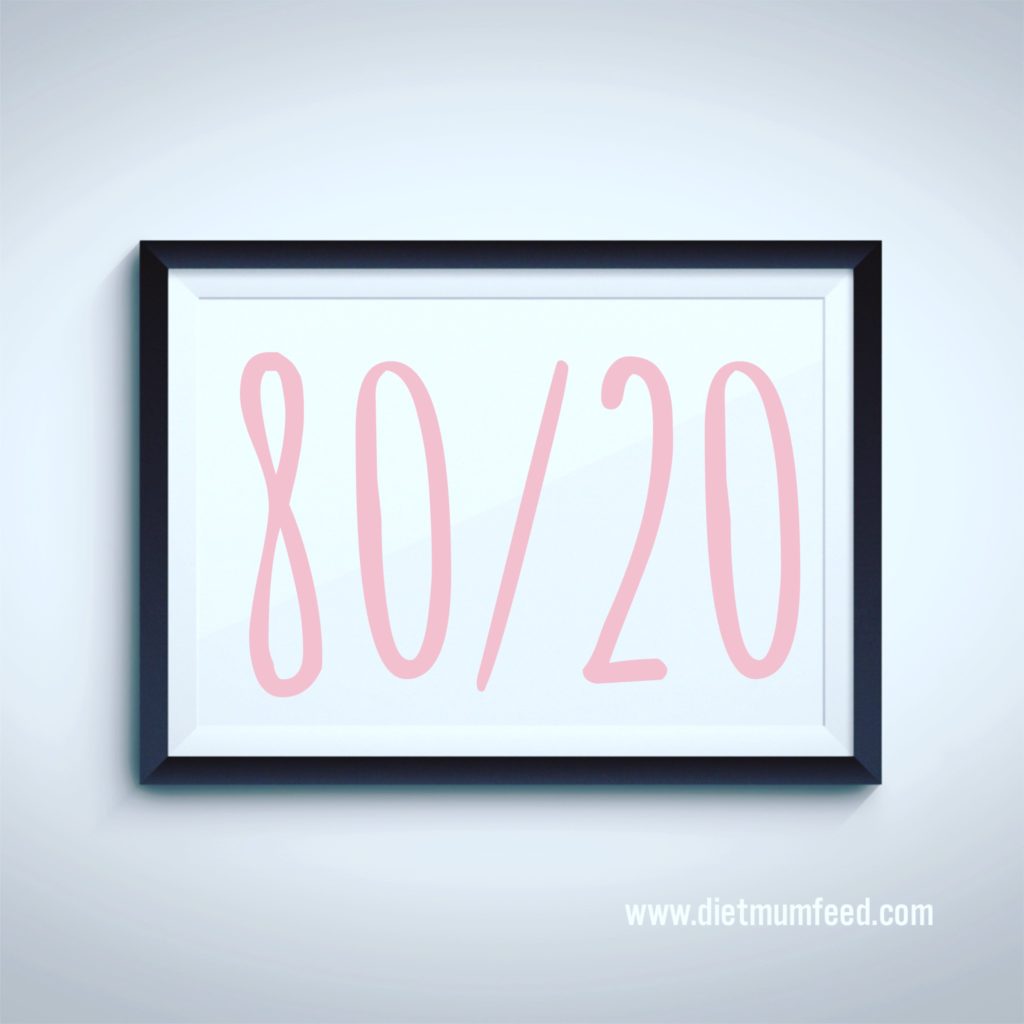 In recent years I've heard the phrase '80/20' when it comes to healthy eating habits and weight loss. It's all about being healthy for 80% of the time and I guess letting yourself off for the other 20%. I've struggled to come to terms with it, as surely any amount of time being unhealthy will just sabotage your weight loss efforts, won't it? Here's what happened when I followed the 80/20 approach to weight loss.
My weight loss following the 80/20 method
The week before last I vowed to embrace the 80/20 method and let myself indulge a little more at the weekend, but I was to eat well during the week and keep up my exercise. As usual, I got a little carried away once my 'indulging' time approached. I felt angry at myself for a moment and thought "why would I 'waste' being 'good' Monday to Friday, to simply gorge for a few days". I was certain I'd hate the scales come my next weigh-in but I actually lost 1.5lbs.
Looking back on this week as a whole, my 'bad' days were really not that bad and I should probably spend more time reflecting on the bigger picture, to stop myself spiralling out of control*; which is what I feel like most of the time when I eat a little more than what I perceive to be a healthy amount for me (or if I have a treat food).
Less guilt, more food
One pleasant side effect of the 80/20 rule for me was the lack of guilt I felt when I did enjoy some more treats or have bigger serving size than usual. Allowing myself to be 'off plan' for 20% of the week felt quite liberating. Without the 80/20 mantra circling my mind, I would of beaten myself up about those extra treats until my next weigh-in. Life is too short to not enjoy the foods you love (ha, is that the piggy in me talking?) or to overly stress about it – strive for good health, everything in moderation and surely the rest will follow.
Skinny people eat chocolate, too
It has also occurred to me that there are plenty of slim people out there who drink wine and eat chocolate. This has been quite a revelation for me! It means one day I too could be slim and still enjoy that stuff, without putting on 7lbs every time someone invites me out to dinner, or if I fancy some Nutella (that stuff is so good!).
So here's to the 80/20 rule and to being kinder on ourselves as we aim to lose weight and feel good about ourselves. It is ok to have a treat and to not stress about 'unplanned' treats either. There's plenty of time to rectify any situation.
Chloe x
*Another confession
I started this post last week and as I finish it off to publish I'm very aware that I wasn't able to go to my Weight Watchers meeting this week, and I'm pretty certain I've abused the whole 80/20 thing! Spiralling out of control food wise is exactly how I feel at this very moment (alongside being bloated); but this post has been good for me to re-read and I'll approach being kinder to myself once more and get back on track.