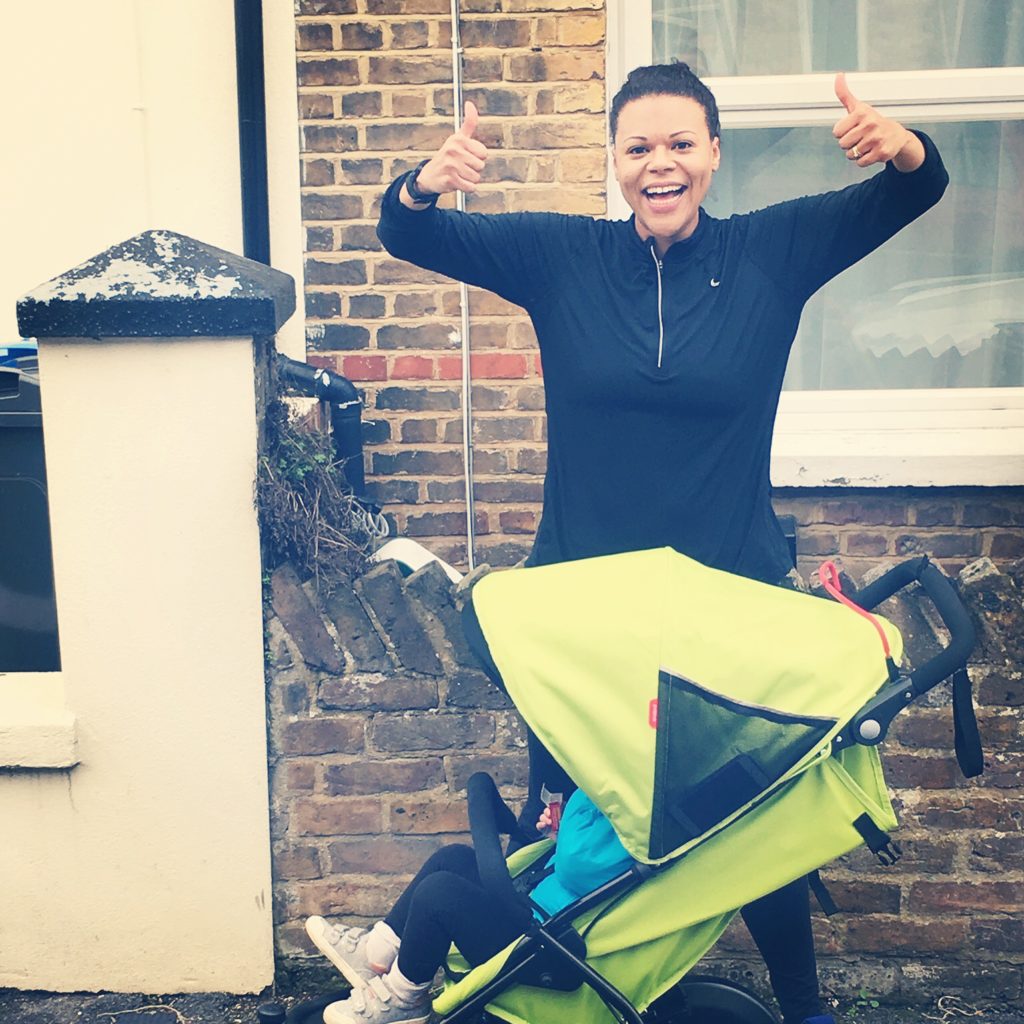 I have a new running buddy – my almost 2-year-old daughter and it's all thanks to the Phil & Teds Sport buggy. I didn't think I could ever be so excited by a buggy, but it's honestly been so exhilarating to use, and here's why.
Before children, getting my arse in gear to exercise was just a case of motivation – these days it takes that, plus coordinating nap times, feed times and my husband's schedule – because apparently you shouldn't leave a child at home alone.* However, I feel that could change a little now that I've got my hands on a Phil & Teds Sport buggy and I can run during the day with my daughter in tow.
The Phil & Teds Sport Buggy in a nutshell
For such a sturdy buggy, the Sport is really lightweight and easy to manoeuvre. It's a 3-wheel buggy and the front wheel can be locked for when for want to run – this makes it a lot easier to control when you're jogging. You can then unlock it with ease for times when you may just be out and about on non-running business, which it is suitable for too. It has a lot of cool features that make jogging with a baby and buggy easy and safe, plus it looks very comfy for little ones.
Key features of the Phil & Teds Sport buggy

Easy to activate emergency stop
My favourite feature is brake functionality. This may sound odd when I'm talking about moving with my daughter, not stopping! Anyway, you'll love this as any parent running with their child wants to feel safe and able to stop quickly if needed. You have two options here, the first is to hold a slim red handle tight to the main handle (both are parrael to one another) and once the red handle is released, the buggy comes to an immediate stop. The second option is to attach an emergency brake strap to your wrist. As soon as the strap is pulled, i.e. if the buggy came away from you for any reason, the strap would activate the brake and the buggy would come to a halt.
A generous basket
I love the basket of this buggy, as it's surprisingly large. Friends of mine will know I've been through my fair share of buggies and I'm often disappointed with the basket size, as I carry a lot of stuff around and I may pick up a few treats on my travels that I like to stuff into the basket too. The large Sport basket is ideal for carrying baby or jogging bits and pieces, as you definitely wouldn't want to hang a bag off the frame when you're being active.
A comfy baby seat with a large canopy, sun shade and pockets
If I was a baby, I reckon I'd be pretty comfy in this sports buggy. My daughter can't fully talk yet, but there were a lot of smiles when she first climbed into the seat and she's had several naps in the buggy while I ran too.
It has a lovely padded seat, with various recline options (the strap at the back kind) and a 5-point harness – which makes it easy to clip in and clip out your little one. The large canopy has an extra sun shade that can be pulled down for particularly bright days or low lying sun. The hood also has fitted side pockets that are really handy for storing a phone, keys, headphones and water bottle! I did try attaching the Phil & Teds cup holder, but my running style must have been all too much for it, as it didn't stay on once I got moving!
It's bright green
There's no hiding is this bright green buggy, which actually made me feel safer crossing roads as surely no one could miss me! Side note, I hadn't noticed that my trainers and running jacket have the exact same green colour in them as the buggy, my neighbours must think I'm a little obsessed with neon.
Would I recommend the Phil & Sports buggy
Yes I would! It was really lovely to be out and about with it, and priceless* to be able to exercise without having to depend on anyone else for child care. That said, I'm quickly learning a few tricks to help make a jog with your baby or toddler a lot easier. Visit my blog again soon for my tips on running with a sports buggy.
P.S
I should also mention that this sports buggy folds down pretty flat too, which in my experience of other running buggies hasn't been the case.
philandteds.com/uk
Available at johnlewis.com
Read more: 6 super easy buggy running tips for complete beginners
…..
Footnotes
*I'm trying to be funny here, please don't think I would actually leave my daughter home alone.
*This piece of kit I not priceless, but if you're keen to keep active with your baby or toddler by your side, then it is definitely worth the investment – especially as it makes for a lovely everyday buggy too and has lots of features ideal for very tiny ones. RRP £449.00