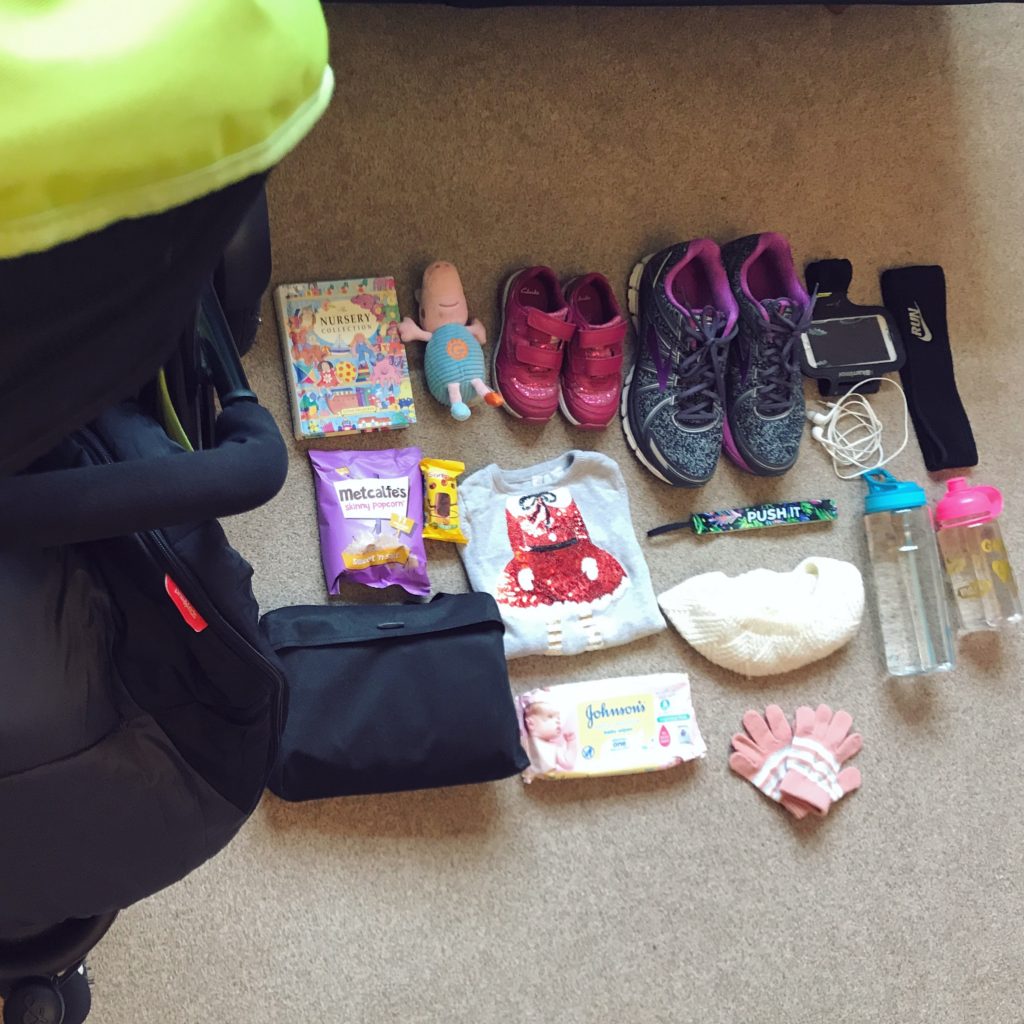 As it continues to get colder I've needed to dig deep to get out the house to go for a run. Then I realised what I needed to do for some extra motivation – a charity Santa fun run! Having the Windsor 10k to prep for over summer was a great reason to keep training, and so I hope having another run in the diary will do the same for me over the next few cold weeks.
Running in the cold can really sabotage your motivation to go out for a jog. As much as I love running, I also love being warm! Creating a 'Winter fit kit'* has definitely helped, as I know once we're out in the running buggy neither of us our actually cold with all the layers we have one, and it's pretty refreshing to jog when it's cool. However, i'm so pleased to have another run to look forward to.
This time i'll be running a much shorter route of 3k and i'm so excited that my daughter can join too, as it's a pushchair friendly route; although if you follow me on instagram, you'll see that she often likes to run too! We'll also be raising money for Woking and Sam Bear Hospices.
I'm so excited for our next run and it's already giving me an extra boost when I think about going out for a buggy run. In prep for the event I've pulled together a few essential items we'll need for the day – see photo! Thank goodness for the large basket on my phil&teds Sport buggy as I often pack a fair bit!
About the photo: I have to be honest, this pic doesn't include absolutely everything – that small person who comes with me running didn't let me add all the extra layers, spare clothes, purse, keys, multiple snacks and toys, or nappies! Note to self, I'll attempt another photo like this when she's asleep!
My race day kit
Christmas jumper – obvs!
Extra layers – for me and daughter
Gloves and hat
Toys and snacks – to keep the little one sweet
Water – my daughter is a bit obsessed with water bottles, so this is her 'sport' one
Phil & Teds Sport buggy snuggle and snooze sleeping bag and waterproof cover
Baby wipes
iPhone and headphones – I'll pack my headphones but I'm not planning listening to music on the way round, but I always regret it when I don't have them just in case my daughter falls asleep and I fancy some music to jog to. Plus Netflix can come in handy if there's any waiting around! 
Running headband – I love my new 'push it' headband from runningbuggies.com and it really doesn't slip. My hair loves to do it's own thing when I run, but at least it's now out of my eyes!  
Trainers – maybe these should of been at the top of the list!
Wish us luck!
Notes: *Next time I promise to share what my Winter fit kit involves! Looking back at posts I completely forgot to say how I've prepped for my Winter runs. Sorry about that! Stay tuned for more Winter running tips!