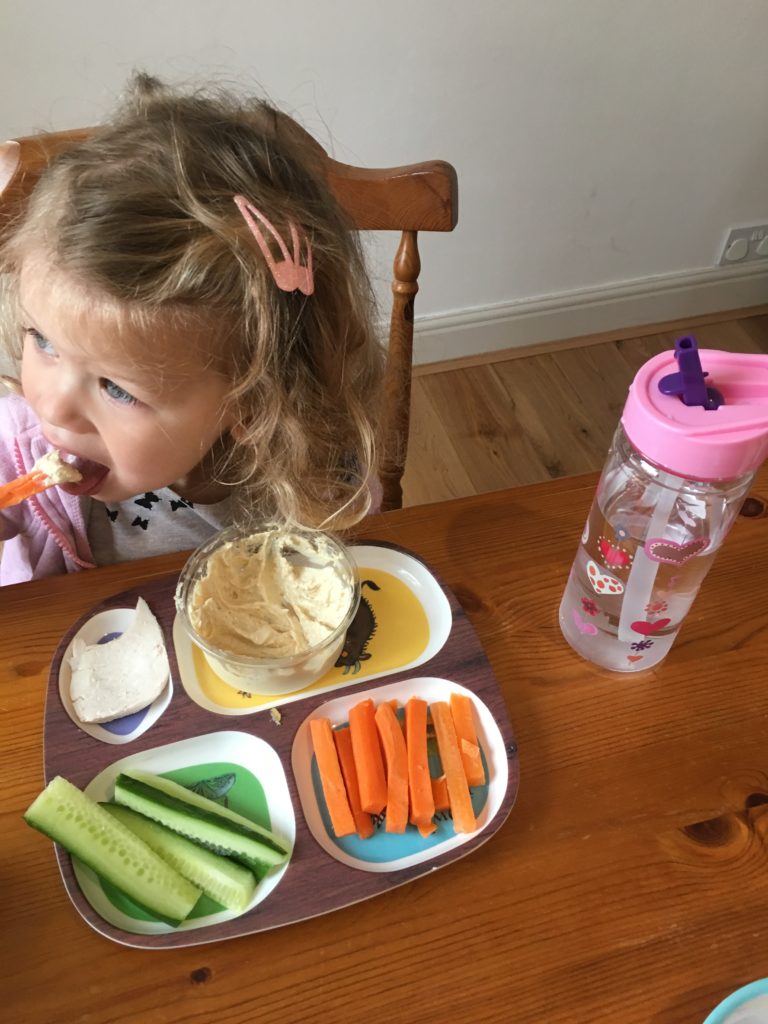 I have a 'challenging' relationship with food, hence why I have this blog. I'm constantly trying to lose weight and see that number on the scales drop; even though I know I should be focussing on being fit and healthy.
I use food as a treat when I'm happy, to comfort myself when I'm sad, to fill a void when i'm bored, or to calm my nerves when I'm anxious or even angry. So basically I'm always eating or thinking about food.
That said I thought I'd be able to hide all of this from my toddler. As time goes on however, I've been noticing just how much I use food as a solution to a tantrum, tiredness or to just get her in the buggy. Don't get me wrong, I don't this is awful behaviour here and there but I do it all the time. Keeping in mind my food history, I'm worried I use food as a tool rather than for fuel far more than I realised.
Thankfully my daughter doesn't seem to be mimicking my behaviour and gorging on food, she's actually the opposite and eats little and often when she's hungry, but if I don't change something soon I fear it will only be a matter on time until she follows me in my footsteps. So what's the answer?
I don't know, but I'm doing the following and I hope it helps me to build a healthy relationship with food that I can pass on to my daughter, without feeling ashamed.
7 steps to conquering my poor relationship with food
1. Acknowledge unhealthy food behaviours
My first step is to acknowledge when I'm reaching for food for reasons other than hunger and immediately devise an alternative solution. For example, instead of cheering my daughter up if she's being a bit grumpy with a packet of quavers, we'll play dressing up instead. Or if it's me, I'll write down how I'm feeling and why – try to deal with the real reason why I'm in the kitchen or distract myself with a herbal tea!
2. Think of food as fuel not as a treat or solution
Learn to think of other activities as treats if something good as happened or if i'm reaching for food out of boredom. For example, enjoy a relaxing bath, get my nails done, call a friend, plan a night out. That kind of thing.
3. A day is not just about breakfast, lunch and dinner
Plan my day around fun things to do with my daughter, work, events, seeing friends and family… not around breakfast, lunch, dinner and snacks!
4. Surround myself with healthy foods
I'd like to make it easier for myself and healthier for my daughter by not buying or keeping unhealthy snacks in the house. She loves cucumber these days and as just started to eat humous – I feel very chuffed with that! Plus, I can have some of that too without feeling guilty, which brings me onto my next step…
5. Healthy portions 
I must stop finishing my daughters' food! Poor girl, I really don't give her long to finish her plate and before we both know it i've woofed down the lot! So, we either have a healthy plate to share or I eat at the same time and sit on my hands once i've finished my portion.
6. Encourage mindful eating not mindless eating
My daughter can be slower than others to eat her food, or she needs a bit of encouraging to start before she gets hangry, and for that reason i've got into the habit of having a TV show on when we eat. Distracting her into eating/ bribing her to keep still. So, I'm trying to talk more about our food and have her help me prep food to engage her over mealtimes. That said, I'm not stopping TV altogether when we eat… because sometimes I like it too and I think that's ok!
7. Keep active
I feel so much better for being active, it curbs my overeating and I'm setting a good example for my little one. I genuinely love running and I love my phil&teds running buggy. It also makes me feel proud that my daughter recognises when I'm getting ready for a run and seems excited to come with me and have a little sprint herself. We've also been swimming more and about to try out some dance lessons. I was always a bit nervous about sport when I was younger and I would love my daughter to grow up feeling excited to try a new activity and not shy away from it like I did for so many years.