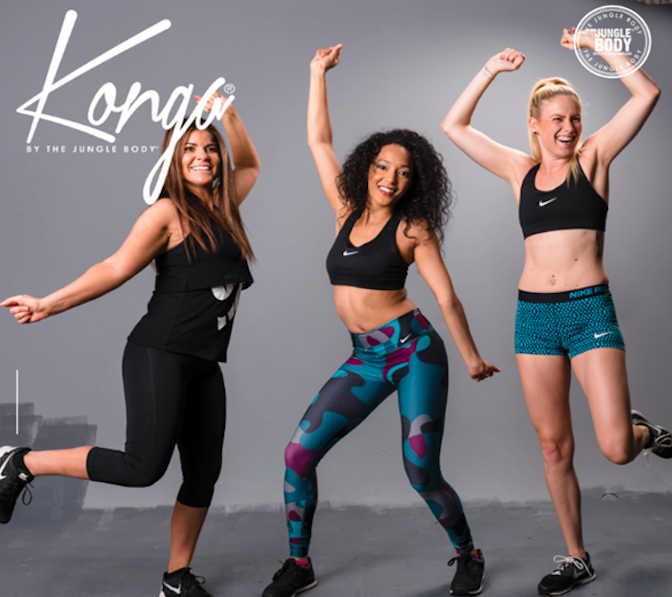 This high-intensity workout can help you burn up to 600 calories and take over 7000 steps in one class! KONGA Fitness Instructor, Katherine Hubbard, shares everything you need to know about this amazing workout…
What is KONGA fitness?
KONGA is an easy to follow, high intensity work out designed for the most uncoordinated people. It is a mixture of cardio, dance, squats, toning, boxing and Hip Hop. The class is for an hour and there are 6 rounds. There are only four moves per track to make it easy to follow and I break down those moves before the track starts; so you can concentrate on the intensity and technic (rather then 10 complicated moves that are done with little impact).
Who can do it?
KONGA is for everyone. The class I teach is suitable for 16-60 year-olds, offering a lower intensity option to those who are older.
How many calories can you expect to burn in one class?
You can burn anywhere from 350 calories to 600 calories. On average I burn 400 calories which is a lot compared to many other fitness classes which tend to hover round the 100-250 mark. For an example, a run on the treadmill for 45 minutes will burn 250 calories and that's without having all the fun of KONGA! You will roughly do 7000+ steps in an hour of KONGA – anyone who has a fitbit of some sort will appreciate how many that is!

Can you describe what a class is like?
The class is in the dark with disco lights and loud music, before each track I will break down the 4 moves for that song and we will do a quick transition from song to song, to ensure your heart rate doesn't drop too quickly. It's extremely fun, fast and fierce and it makes you feel good. Plus, I'm with you every step of the way, working out just like you are. KONGA is a class you can do with your friends or with your mum.
Can Konga fitness help you lose weight?
Absolutely but like any fitness it is about consistency, to see any change in your body you need to allow for 6-8 weeks of consistently working out. The temptation after 2-3 weeks is to jump on the scales, however all weight lose takes time and must co exist with a good diet. I personally have noticed the difference in my body shape. I don't weigh myself, but I want to feel good and like most women I go by my how my clothes fit. I am a lot leaner than I was before KONGA, and I've got more definition from it. If I was to go to the gym I know I would need to separately work out those muscles to get as toned.
What would you say to those keen to try it but are nervous they have no rhythm?
You don't need it! I am not a dancer myself and have little to no rhythm. It was designed to be for those uncoordinated who love working out to loud music. I think that's the great thing about it being a mixture of different types of exercise you maybe be great at the HIIT based moves, great at dance moves or great at the boxing moves. It's for everyone!
What parts of your body is it good for?
It's a full body work out. You will always be using your arms, legs and core muscles.
What do you love about KONGA?


I have never been a fan of the gym but I love loud music and getting a good sweat on, so when I trained to be a Jungle Body Konga instructor I fell in love with it straight away. I feel a great sense of achievement after each workout, it's not easy but it's not meant to be! I guarantee you will fall in love with it over night… even if you can't walk the day after.
The Jungle Body with Kat
Kat teaches Konga in Wimbledon, London on Tuesday nights at 7.30pm – plus there's parking.
To book yourself into Kat's class, click here. 
To learn more about Konga Fitness, check out www.thejunglebody.com

Could KONGA help new mums get fit, too? Click here to read more.