This delicious smoothie recipe is inspired by The Body Coach; Weight Watchers; close friends of mine at www.echosupplements.com; a nutritionist at my local gym; and what I had in my kitchen. It tastes great and you're sure to love it if you're a chocolate fiend like me! I hope you enjoy it if you give it a whirl… or should I say blitz (poor attempt at getting in a blender reference).
The following recipe includes some of the ingredients The Body Coach uses in his post-workout recipes, but has been tailored to what I usually 'spend' SmartPoints* wise on breakfast. It also includes some sneaky fruit and vegetables (tip given to me by a nutritionist at my local gym) and a scoop of PHD diet whey protein powder. Lovely friends of mine who run www.echosupplements.com inadvertently introduced me to PHD diet whey protein bars and powders – during a catch up they shared one of the bars they had on them and it was so good. It completely sorted out my chocolate craving, actually filled me up and as a pleasant surprised had a low SmartPoints value too!
A Weight Watchers friendly Chocolate Post-Workout Protein Shake Recipe
Requires a blender
For Weight Watchers it works out at 5 SmartPoints

Ingredients
20g rolled oats
200ml of Oat milk (could used almond milk)
1 scoop of PHD chocolate diet whey powder
1 banana
Handful of spinach (frozen or fresh)
Handful of blueberries (frozen or fresh)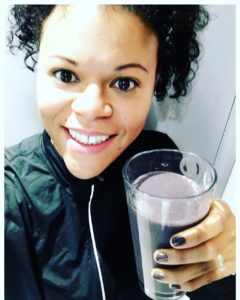 Method
Chuck in a blender and whizz!
Do check out www.echosupplements.com or give them a call if you're interested in trying PHD for yourself or want to know more about protein powders. They're so knowledgeable and super friendly.
Enjoy the smoothie!
P.S I also noticed that the smoothie matched the colour of my nails, and so I thought I'd share that pic in this recipe too! haha.
* When you follow Weight Watchers – the counting method, as there is a no count method – every food and drink as a SmartPoints values