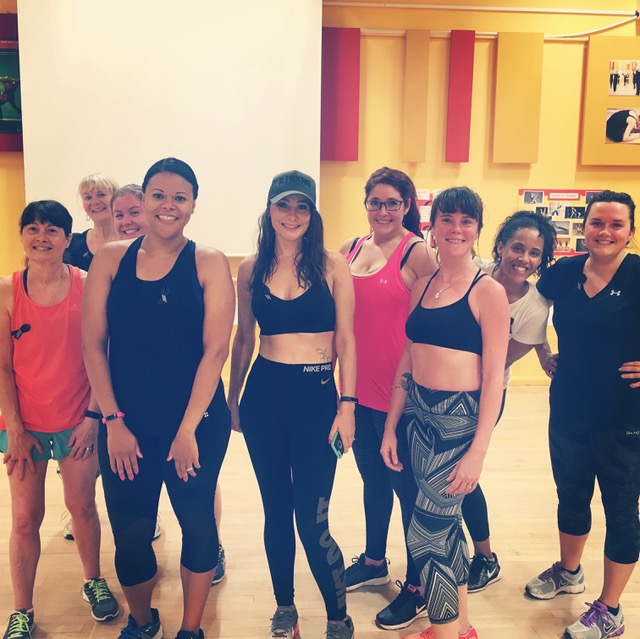 This weekend I experienced my first ever Konga fitness class – a workout filled with dance moves, boxing, toning, jumping and everything in between. I was expecting a slightly more intense version of a Zumba class but this was on a whole other level of fitness – it made me sweat more than a spinning class, take over 8000 steps in just an hour and burn over 600 calories; all with the best ever playlist to boot.
What is a Konga class like?
The studio was low lit (ideal for the body conscious like me), lined with disco lights and the air con on full blast – the perfect environment for a Saturday morning exercise class. I was greeted by the super toned and glamorous Katherine Hubbard, Konga fitness instructor; and a lovely group of women all up for a fun workout.
Kat explained that Konga consists of 6 rounds and each round includes 4 or so moves, performed to a single track. Before each round Kat would demonstrate the steps, which were simple but once the music started, felt intense and fast. The tracks Kat picked fitted perfectly to the fat burning, body toning steps that make up Konga – an exciting mix of cardio, dance, boxing and sculpting moves.
My Konga review – a workout not for the faint hearted and seriously fun
I've done dance fitness classes before where there have been so many steps and routines that I've completely lost my footing and hadn't a clue what I was meant to do. Those classes have left me feeling as though I'd just spent an hour just falling all over the place, without burning any calories or breaking a sweat.
Konga is full on training that pushed my body to the max but was definitely fun. I loved the simplicity of the steps, the music and the structure of the class – easy moves and clear explanations but with a lot of energy and positive encouragement.
Don't just take my word for it… "I absolutely loved Konga! A great high intensity and fun workout – the hour class flew by! Would definitely recommend." Michelle
"I really enjoyed my first Konga class with Kat. It combines a full workout with music that makes it feel fun. Plus I was amazed to reach 8,000 steps during the one hour class! Would highly recommend." Georgina
Plus, all the proceeds from this Konga class went to the Epilepsy Society, who are dependent on donations from the public to support those with Epilepsy.
About Kat
Kat teaches Konga in Wimbledon, London on Tuesday nights at 7.30pm and is open to hosting more pop up classes in areas interested in this new and exciting fitness class. Get in touch with Kat via her Instagram or book yourself on a class here.
Want to learn more about Konga?
Forget Zumba, have you ever tried Konga Fitness?
Could Konga help new mums get fit?